Have you heard of Loretta Marie Hair Studio? Well of not your are missing out! Its a very cute (and very hidden) hair dressers in the centre of Edinburgh that specialises in vintage and colourful locks. 
I was very lucky to get a sneak peak at a new service they are offering called Beauty & Burlesque and it did not disappoint.
Let me tell you, finding this place was not the easiest but it was well worth my little walk in circles. For anyone looking to head along it's just behind Ticket Scotland on Rose St and once you get round the corner you just need to look out for the doorway on your right, it's not very far along.
I wandered up the stairs not sure what to expect but the salon is lovely and bright. I was really impressed with what they've done with the space and how versatile it is. Walking into a gaggle of Edinburgh's finest bloggers was a little overwhelming but these girls are true dolls and I was giggling within minutes. Loretta explained the package to us all - we were being treated to a vintage hair styling and stunning eye make up, easing us into the idea of the burlesque class that was to follow. While we chatted, I tried (and failed) to keep my snacking to a minimum but those mini doughnuts were too cute and if you can't be naughty when doing burlesque, then when can you?!?!?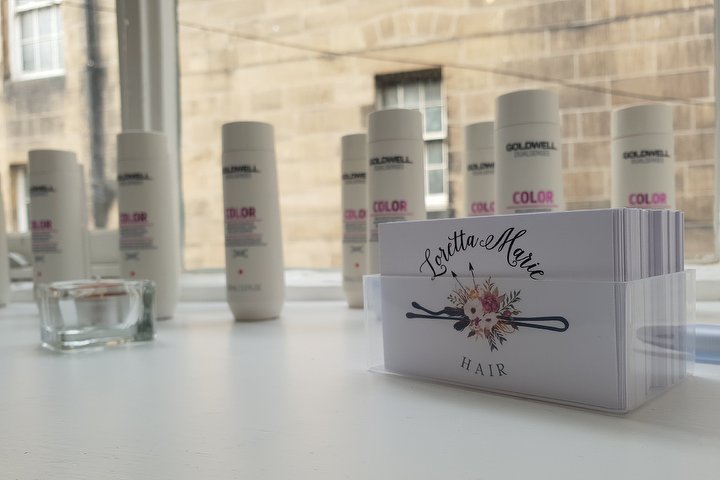 The girls did a great job of coordinating our hair and makeup so that there was a constant flow and there wasn't a long wait between pampering sessions. The have a lush couch to chill out on and chat with your friends while you are waiting and the whole afternoon was so chilled out. I got my eye makeup done first and I did my usual "just go with whatever you think best" because 1. I utterly trust these professionals to do a better job than whatever I've come up with and 2. I love being surprised with something totally unknown at the end…YES I am a big kid. Cait Owen worked away on my eyes while we chatted and when they were finally revealed to me in the mirror, I was blown away. She'd done with a stunning pink colour which is way braver than anything I would have tried myself but I loved it and felt like my inner diva was ready to hit the dance floor. I also feel in love with my eyebrows for the first time and it's now sparked an obsession to colouring in what I had previously left bare, well at least when I go out.
Next up was my hair and Loretta gave me a sleek vintage wave. Again she was so friendly and we chatted away while she was styling, as well being glued to the TV as they had burlesque (the film) on and I'm a sucker for Cher & Christina - dream team. All the girls got a amazing mix of updos and luscious locks so it was nice to see us all so different, rather than the same style for everyone. She's a wizard with the curling iron and I was intently watching in the hope that I'd be able to pick up some tips for home
Before we knew if the couch was being moved out the way and it was time to get our groove on. Sara Kemp walked us through a routine step by step and told us by the end of the hour, we'd be doing it without her help. We laughed, I mean common…an hour, REALLY but her instructions were simple and she broke it down into smaller sections so we'd learn a little bit of the routine at time, until we were confident to move onto the next. Sara made us all feel so comfortable as she really does give it her all and if so much fun that everyone wants to shimmy when they are with her (which is a skill I really don't posses) Something about giving your everything into these moves makes you feel like a powerful goddess and we were all strutting our stuff before we knew it. Sure we were making mistakes but everyone was laughing and loving it and by the end I think we all felt a whole lot more comfortable in our own bodies.
I think this is an amazing idea for a hen or birthday party. What better way to kick off a night out then to all get ready together and learn some fun moves before the evening even begins? Even better, because it's right in town! I've been to these kind of events before and they are always miles away from any good places to eat or drink but Loretta's is smack bang in the middle of the best that Edinburgh has to offer so it's perfect to kick off your night!
I also need to give a massive shout out to Carolyn Henry who took all these amazing photos. She was brilliant on the day and really captured the fun we all had. Thanks for the memories Carolyn!
To book your own Beauty & Burlesque party, email Loretta at This email address is being protected from spambots. You need JavaScript enabled to view it. 
Now I know you are all dying to see our final video so here it is - Enjoy ladies and here's to loving your own body!
To Find out more about all these fabulous women, here are their details:
Loretta - Hair
Facebook - https://www.facebook.com/LorettaMarieHairStylist/ 
Instagram - @lorettamarie_hairstudio
Cait - Makeup
Facebook - https://www.facebook.com/CaitOwensMUA/
Instagram - @caitowensbeauty
Sara - Burlesque
Instagram - @sara_louise_kemp
Carolyn - Photograpgher
Facebook - https://www.facebook.com/carolynhenryphotography/
Instagram - @carolyn_henry_photography